Demonstrating Operational Efficiency in Uganda Part 4
Ibrahimm Mugerwa1, Tony Boova2, Van Der Westhuizen2, Christopher Okiira1, Agnes Nakakawa3, Micheal Kasusse3, Suzan Nabadda1, Gaspard Guma1, Suleiman Ikoba1, Charles Kiyaga4
1Uganda National Health Laboratory Services, 2Beckman Coulter Life Sciences, 3Makerere University, 4ASLM
Lessons learned from pilot study
One of the challenges for accurate cost and performance evaluation was understanding, and quantifying, the differences between the pilot study region – and the control. In the case of the Arua pilot study, local population densities and refugee numbers were completely different from Maracha. West Nile has to serve both refugees and local communities, which has an impact on health costs. It has a high number of refugees compared to the local population. This is not the case for Masacha. There is also considerable variation in how easy it is for people to physically access health facilities as well as transportation resources for supplies and samples. West Nile is 600 kilometers away from the center of the region, while Masacha is much closer, only 120 kilometers. This further made it difficult to accurately compare TAT and transportation logistics.
For example, since the high influx of refugees from South Sudan and Democratic Republic of Congo negatively affects healthcare delivery, coordinating the support from various implementing partners in the West Nile Region including from the United Nations Humanitarian Agencies also has to be factored in.
Further, there was a lack of harmonized data capture and reporting tools between the two regions. Only the West Nile Health Region had data on key performance indicators while data for some indicators were not available for the control hub. A key recommendation for other regions is that sufficient time should be given to try and quantify differences and how they might affect comparative performance targets before implementing changes.
The investigators monitoring the success of the study noted that the complexity and responsibilities of a regional hub coordinator require a team approach rather than rely on the initiative of one single person. When taking this plan forward to other regions, they advised that funding also needs to be in place to establish a strong regional coordination office set-up, including providing a dedicated driver and office assistant, a car to support field activities and a designated office space.
Successful implementation also depended on the cooperation of staff at all levels. Laboratory and transportation teams were going to be asked to change long-standing working practices. They have to learn new ways of working and accept different levels of responsibility and reporting structures. It is to be expected that tensions will arise, both towards the introduction of the new coordination role and between the different district health teams.
The investigators advise that there is a need to understand that this is inevitable and should be factored into any planning. The success in addressing these potential stumbling blocks does not only depend on the temperament of the coordinator and that person's skill in managing people. Suitable staff training and mentoring is essential.
Overall Impact
Most importantly, the pilot study brought about a strengthening of the laboratory service in the pilot area, to the benefit of patients. It made more effective use of limited resources, removing waste, delivering a more efficient, speedy and reliable service. In turn, it provided a roadmap for increasing access to early testing and diagnosis for vulnerable people. At the same time, it offered staff the chance to learn new and more rewarding ways of working, providing them with support and training.
It showed the way for the Uganda Central Public Health Laboratories to provide effective governance to support quality diagnostics testing and greater access for HIV patients in other remote health regions. The study demonstrated how the introduction of a regional hub coordinator would improve access to HIV testing, providing a more consistent HIV testing service, including outbreak response to the overall benefit of patients throughout the country.
In addition, it demonstrated how those who have migrated seeking refuge from border countries such as the Democratic Republic of Congo and South Sudan can be better supported with health testing services and basic care. It has been estimated that as many as one million people have sought refuge in Northern Uganda. Based upon the evidence and data collected during the pilot intervention it is recommended that the provision of a regional hub coordinator become a permanent part of the Uganda regional hub laboratory system to improve access and outcomes throughout the country's health laboratory network.
Fill the form to download Full case study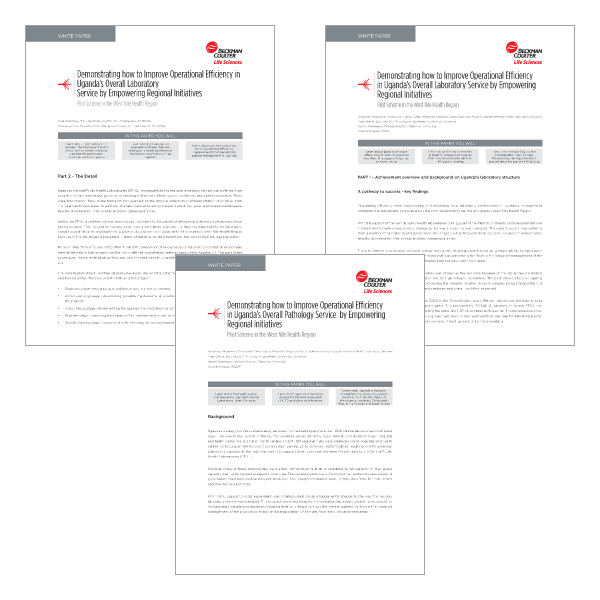 CD4 Testing in Remote Areas
---
References
Kiyaga C, Lee HH, Allain JP (2015) Adherence to Early Infant Diagnosis Testing Algorithm, a Challenge to Early Infant Diagnosis Program in Resource Limited Settings of Uganda. J HIV Clin Scientific Res 2(2): 030-039