Bringing high quality near-patient testing into rural Communities
Improving the infrastructure in rural communities
What is needed is for ministries of health to be able to coordinate CD4 cell count testing on a national scale. However, the majority of countries still don't have the infrastructure, transport or technology to effectively manage the collection, storage and transportation of the blood once the sample has been taken. In addition, they lack a coordinated reporting process to communicate the test results back to patients and clinics in an efficient and timely manner. The fragmented nature of the transport systems in hard to reach, rural communities also makes it difficult to deliver the necessary diagnostic equipment and the replacement parts and supplies needed to keep the service running.
Despite advances in the quality and accuracy of the actual diagnostic tests themselves that are available for near-patient testing, local healthcare communities face a significant financial and logistical burden to manage and maintain them. Further, with a rapid turnover of the people in the healthcare teams, it's often difficult to maintain the services that are already being provided in rural clinics.
But change is taking place. What is now being developed is an IT infra-structure that supports remote testing in rural areas, so that standards for quality, consistency and instrument maintenance can be monitored and managed. "One of the things we've been working on is connecting these point of care technologies up to a central server, so the ministry knows where the devices are, if they're working and if they're being used properly," says Cheng. In addition, ministries of health are learning how to set up the efficient hospital laboratory blood testing services we take for granted in Western Europe.
Speeding up the diagnostic pathway "We've done a lot of work to ensure the quality of the diagnostics and that they are affordable and accessible in rural areas," continues Boeras. "This is really promising, but once someone has been diagnosed, the same issues that prevented them from travelling to a lab to get tested in the first place, now prevent them from travelling to see a clinician or accessing treatment." The longer it takes to link patients with treatment, the more likely they are to fall out of the system completely. "We have four key players: the patient, the clinician, the testing and the treatment," says Boeras. "In an ideal world we need to get them all into the same room. Bringing the testing together with the clinical support will help to engage people in the healthcare system." The health of those with HIV depends on specialists from different disciplines working together with a single focus on patient care. "I hope that these new guidelines will advance and reinforce the importance of CD4 testing," concludes Cheng. "We're starting a consortium to try and help countries adopt and implement them as rapidly as they can and to get their package of care in place to help people with advanced disease. I hope it will result in decreased mortality and morbidity."

Dr Steven Aiyiusu, Uganda National Public Health Laboratory Services
Fill the form to download Full case study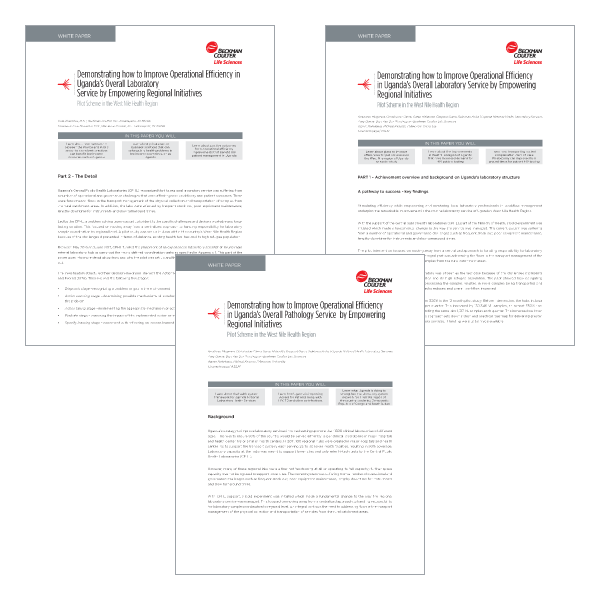 CD4 Testing in Remote Areas